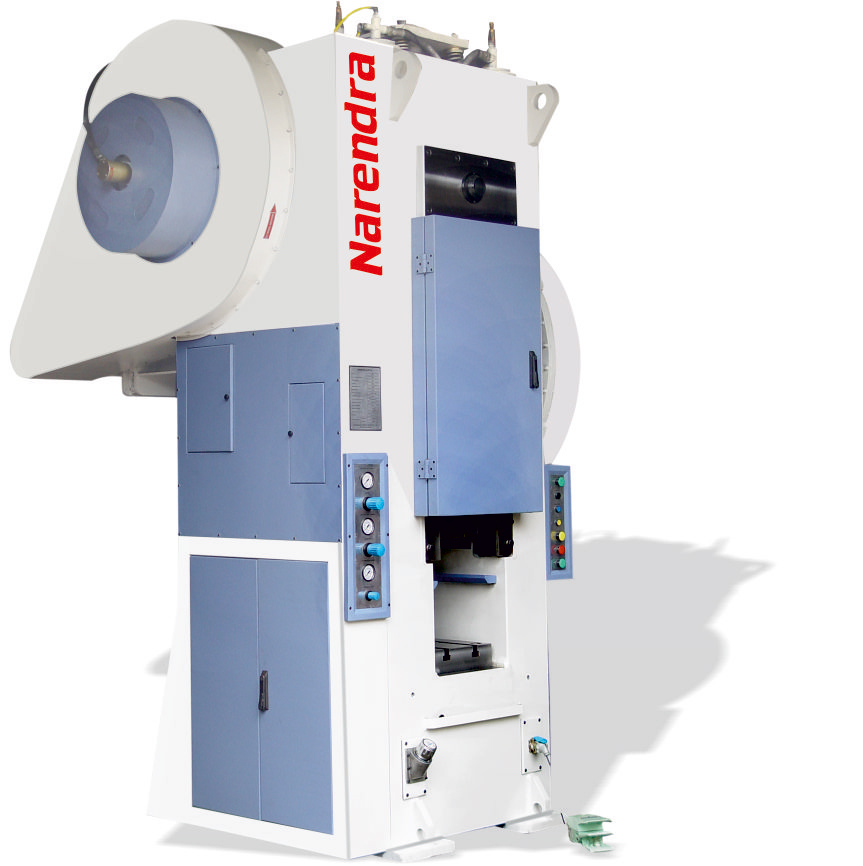 Download Catalog
Enquire Now
Knuckle Joint Press (NKJ)
GENERAL FEATURES
Knuckle joint press is ideal for forming operation where cloe tolerances are required. It is designed for operation which require slow but high force at lower zone of the stroke, therefore perfectly suited for coining, extruding, sizing and thick plate blanking. By virtue of the linkage system, the ram speed is very slow as it approaches the BDC. This low punch entry speed allows enough time to provide plastic flow of material during critical cold forming zone.
ADVANTAGE
In comparison to sheet metal forming, the cold forging technology can reduce the material waste form 40% up to 60%. One of the most >economical method for manufacturing high precision parts for metal. It also offers more accurate, stronger and longer life parts.
BETTER MECHANICAL CHARATERISTICS
Through the cold-forge procedure, the grain structure of steels is mini–eliminated to reinforce its resistance strength about two times. This advantage can improve the materials with better mechanical characteristics which are closer to tolerances, thus a lower cost material is allowed to be adapted for cold forging production.
HIGHER PRODUCTIVITY
Work pieces with the irregular thickness or the complex shapes as trapezoid, core or hollow cylinder etc, which is extremely difficult to produce by cutting forming, can be easily formed by cold forging technology.
SLIDE
The upper and lower slide are steel cast single pieces hinged to upper and lower link respectively through pins housed and profusely lubricated inside the slides. Unlike other presses, the slide adjustment mechanism is on the upper slide with taper–plate arrangement fixed at the top slide.
CLUTCH BRAKE
Combined Clutch & Brake are multi–disc type with non–asbestos liners profusely fins in the casting helps to dissipate heat. It is designed for instant engagement and disengagement and is easily accessible for maintenance.
LUBRICATION
Motorized forced feed lubrication is of re–circulating type which ensures adequate oil supply, depending upon the bearing area and guide–ways. It also ensures cooling of bearings, which results in long life of machine.
NKJ1
Knuckle joint linkage connects the upper and lower slides to creates and optimum motion curve. Sine curve is transformed and retarded to a flat curve as the slide approaches BDC. Such slide motion curve can ensure material to be formed/forged to a desire forming quality due to the slowdown of slide speed and longer period of forming.
Mechanical slide adjustment drive and hydraulic locking system ensures zero clearance of slide adjustment during operation, thus ensuring high quality of forged parts.
Technical Specifications
| | | | | | | |
| --- | --- | --- | --- | --- | --- | --- |
| MODEL | | NKJ–160 | NKJ–250 | NKJ–400 | NKJ–630 | NKJ–1000 |
| CAPACITY | TONS | 160 | 250 | 400 | 630 | 1000 |
| TONNAGE RATING POINT | MM | 2.5 | 4 | 6 | 8 | 8 |
| STROKE LENGTH | MM | 100 | 120 | 160 | 160 | 160 |
| STROKE PER MINUTE(CONTINOUS) | S.P.M | 60 | 40 | 40 | 35 | 35 |
| STROKE PER MINUTE(INTERMITENT) | S.P.M | 25 | 16 | 16 | 14 | 14 |
| DIE HEIGHT(S.D.A.U) | MM | 250 | 365 | 400 | 400 | 500 |
| BOLSTER AREA (LRXFBXHT) | MM | 400 X 400 | 430 X 570 | 550 X 650 | 600 X 700 | 700 X 800 |
| SLIDE AREA (LR X FB) | MM | 360 X 400 | 430 X 400 | 430 X 500 | 450 X 550 | 450 X 550 |
| SLIDE ADJUSTMENT | MM | 15 | 15 | 15 | 15 | 15 |
| BOLSTER THICKNESS | MM | 90 | 100 | 120 | 150 | 150 |
| MAIN DRIVE MOTOR | HP | 7.5 | 20 | 40 | 50 | 50 |
Bed Knockout
| | | | | | | |
| --- | --- | --- | --- | --- | --- | --- |
| CAPACITY | TONS | 10 | 10 | 15 | 30 | 30 |
| STROKE | MM | 50 | 50 | 60 | 70 | 70 |
Huge saving on material
Precision–size, precision–shaped parts
Tougher and stronger parts
Ready to assemble part, no finish machining
Cost efficient production